The Cassowary Coast Business Women's Network meet on the last Tuesday of each month (excluding June and December) at various venues across the region.  Events are organised by our Executive Committee.
Upcoming Events:
May 2019 AGM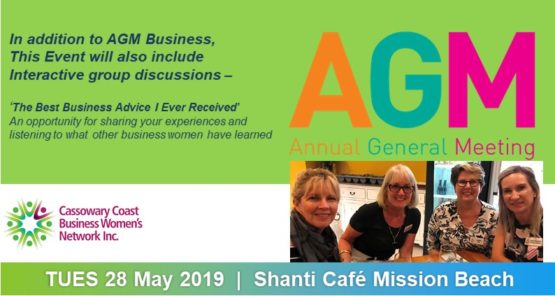 Annual General Meeting – Presidents & Treasurer's Report presented and Election of Executive Committee
Interactive Event – Sharing Information and Discussing – The Best Business Advice I Ever Received
Where: Shanti Cafe, 37 Porters Promenade, Mission Beach
             Remember it's BYO.  Cold drinks available to purchase,
When:  Tuesday 28th May 2019 
Time:    6.30pm Networking followed by Dinner at 7.00pm
Time:    $40 Members,   $45 Guests 
RSVP:   3.00pm Friday 24 May 2019
Details and Bookings
What happens at our Events?
CCBWN Update Information

Members and Guests will be informed about events, information and issues associated with our Network and business in our region.
Guest Speaker
Guest speakers are invited to inform, motivate  and entertain on subjects relevant to Business
Networking Opportunities
Every person attending an event has the opportunity to market their own business to Network members and guests.

Meet and mingle with the business women in our region.

Share your experience and business best practices.

Help others with concerns/questions/issues they are having within their businesses.[/column]

Previous CCBWN Events:




 

2019

March

Cassowary Coast Regional Council representative and Tully Chamber of Commerce – provided an update about the International Rafting Event 'Tame the Tully' being staged at the Tully River in May 2019 (Tully)

February

Jasmine Porteous, General Manager of Castaways Resort & Spa Mission Beach – her personal business and leadership journey, tourism in the Cassowary Coast and an update on planned upgrades to the Castaways Resort (Mission Beach)

January

Cassowary Coast Regional Council – Update by Mayor John Kremastos – Proposal for Division Changes, Tame the Tully Event – May 2019 and Red Bull Event – Sept 2019 – (Innisfail)

2018

November

Celebrating Christmas – at the Waterfront Restaurant, Cardwell Marina

October

Are you Prepared for the Cyclone Season – Karen Hardy from ACME Insurance, Tully presented with professional advice and shared her experience about planning to protect both business and personal assets. (Tully)

September

Let's Get Creative – 'A Play with Watercolour' – Members and guests had the opportunity to have Sally Moroney share her expertise and guidance in the use of watercolour techniques. Artists (that's us!) each took home our own artwork on a A4 watercolour card. (Mission Beach)

August     

Networking Event – Presentations from 5 members – 5 slides/5 minutes – Members and guests gaining confidence in marketing their businesses and gaining a better understanding of the diversity of businesses in our Network (Innisfail)

July

Dii Dunlop – Cassowary Coast Life website – Marketing Cassowary Coast and the value of cross promotion (Tully)

May         

Annual General Meeting – Our CCBWN Story (Mission Beach)

Apr          

Deb Johnstone – Transformational Pathways Aust (Cairns) – How to Create More Time and  Have an Even Greater Business.  Understanding your Mindsets (Innisfail). 

Mar         

Toastmasters International (Innisfail) – Pathways Learning Experience (Kurrimine Beach)

Feb          

Ryan Moody Fishing Charters – Karen Rudkin-Moody – Business Change (Cardwell)

Jan          

Rusty Mango Designs – Sales Funnelling (Innisfail)

[/column-group]

2017

Nov        

Celebrating a Cassowary Coast Castaways Christmas – Castaways Resort and Spa Mission Beach. Celebrating the success of our business year 2017. (Mission Beach)

Oct         

Sally Mlikota, President of the Cairns Business Women's Club and Director of CBC Staff Selection (Cairns) – Learn to Network.  More way to network the more benefits you will see in your small business. (Kurrimine Beach)

Sept        

Mission Arts – The Art of Business Success – Understanding the business side of the Arts  world and private viewing of Mission Arts Exhibition titled 'Migration'. (Mission Beach)

Aug         

Councillor Ben Heath – Cassowary Coast Regional Council – What's being planned to ignite economic development in the region and a range of initiatives in progress from the CCRC. (Innisfail)

July         

Nicky Jurd, Precedence – Cairns Based Web Design Company – Online Business Reputation.  Branding awareness and digital communication and marketing tools. (Tully)

May         

AGM & Mayor John Kremastos – Cassowary Coast Regional Council – update of achievements of his team since election and forward planning.  Opportunity for members to ask questions specific to their business interests. (Innisfail)

Apr         

Mission Beach Community Bank – Bendigo Bank (CCBWN Gold Member) Hosted Meeting – Healthy, Wealthy & Wise (Peta Nicholson – Body & Health therapies, Loren Brandle – 'A Man is not a Plan' – Superannuation planning, Jen Downs – Founding President of CCBWN and Former Director & Chair of MB Community Bankshares her wisdom & business advice) (Mission Beach)

Mar           

Angelique Dibella – Jella Bella Designs – Inspiring Local Business Women (Tully)

Feb          

CCBWN Exec Members – Kerry Clow/Delina Connell – Time Management – Behaviours and Systems to improve effectiveness (Kurrimine Beach)

Jan          

Pete Faulkner – Cassowary Coast Economic Development (Inc) CCED – Update(Innisfail)

2016

Nov          Christmas Networking Function – sharing of food, drink, gifts & Christmas cheer! (El Arish)

Oct           Danielle Carey – Dept of Education and Training – Projects in the Cassowary Coast (Tully)

Oct           Peters Bosel Lawyers (Cairns) – Employment Fundamentals (Tully)

Sept         Speed Networking – Marketing your Business to CCBWN members (Kurrimine Beach)

Aug          Kylie Gabutto – Online Business Stylist (Cairns) – Sales Myths (Innisfail)

July          Cairns Kick Start Toastmasters – Mind Mapping and Elevator Pitch (Mission Beach)