Current Event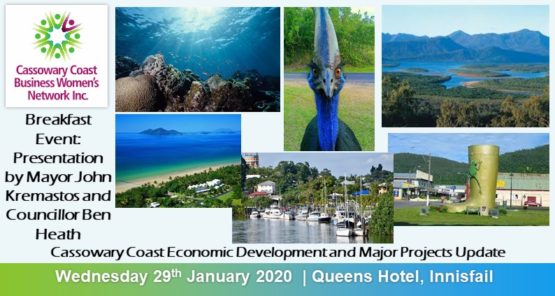 Breakfast event in Innisfail

Cassowary Coast Economic Development and Major Projects Update

Mayor John Kremastos and Councillor Ben Heath from the Cassowary Coast Regional Council will be sharing information with the network for the first meeting of 2020!

At a breakfast meeting at the lovely Queens Hotel in Innisfail, members and guests are encouraged to attend to hear about the exciting economic strategies and major projects planned for the Cassowary Coast region for 2020 and beyond.

There will be a question time at the end .

 
We hope you can join us !
Members $ 22.00.  Non-members $ 25.00

Bookings open 5th January 2020

Date:  29th January 2020
Time:  7.00am to 9am
Venue:  Queens Hotel, 74 Rankin Street, Innisfail
Contact:  bookings@ccbwn.org.au