Welcome to the Cassowary Coast Business Women's Network
The Cassowary Coast Business Women's Network Inc (CCBWN) was formed in 2010 and has continued to grow and develop to the dynamic and diverse group of business women that we are today.
Our Objectives are:
To facilitate networking with like-minded women
To encourage, nurture and support the ideals and goals of women
To provide a voice for business women
To promote growth personally and professionally within our community
To foster the development of new business initiatives for women
To enrich the lives of women through friendship
Businesses are represented across the whole Cassowary Coast region – Innisfail, Tully, Mission Beach, El Arish, Kurrimine Beach, Silkwood and Cardwell – creating a committed and professional Network of businesses.
The CCBWN welcomes and encourages women in business in the Cassowary Coast to get involved by either attending our events and meetings as a guest or, to join as a CCBWN member. 
Upcoming Events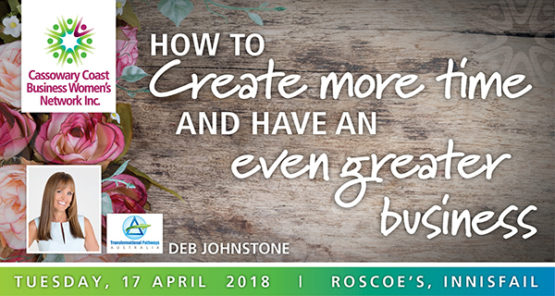 Deb Johnstone, Transformational Pathways Australia (Cairns) is an accredited Mindset and Neuro Linguistic Programming (NLP) coach. She works with clients to help them develop their mindset and thinking, to create change and achieve higher level results.
Deb has a background of management in small business. She is the founder of Transformational Pathways Australia, the creator of a group-coaching program for small business owners, Mindset 4 Business Success and the creator of Your Success Planner – Pathway to your Extraordinary Year. She assists professionals and small business owners to take their life and business to the next level.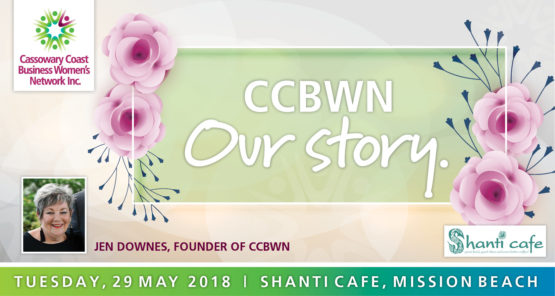 CCBWN – Our Story – Beginnings, Visions & Growth
Past President, Jen Downes, will give a presentation on how the Network was established, the challenges they faced, the exciting times along the way and the fun that was had.
Annual General Meeting – Current President, Kerry Clow, will give the President's Report of the past year 2017-2018.
The 2018-2019 Executive Committee will be elected

Why become a member of the CCBWN?
Discounted prices for CCBWN Events
New business opportunities through networking
Meet new people – develop and grow your contact base
Raise your profile and highlight your business
Share information, knowledge and experience with other like-minded business people
Development opportunities
An opportunity to be on the Executive Committee
Complimentary Website Listing of your business details
Opportunity to be a guest speaker at CCBWN events
Be supported and be inspired by other business women