Welcome to the Cassowary Coast Business Women's Network
The Cassowary Coast Business Women's Network Inc (CCBWN) was formed in 2010 and has continued to grow and develop to the dynamic and diverse group of business women that we are today.
Our Objectives are:
To facilitate networking with like-minded women
To encourage, nurture and support the ideals and goals of women
To provide a voice for business women
To promote growth personally and professionally within our community
To foster the development of new business initiatives for women
To enrich the lives of women through friendship
Businesses are represented across the whole Cassowary Coast region – Innisfail, Tully, Mission Beach, El Arish, Kurrimine Beach, Silkwood and Cardwell – creating a committed and professional Network of businesses.
The CCBWN welcomes and encourages women in business in the Cassowary Coast to get involved by either attending our events and meetings as a guest or, to join as a CCBWN member. 
Upcoming Events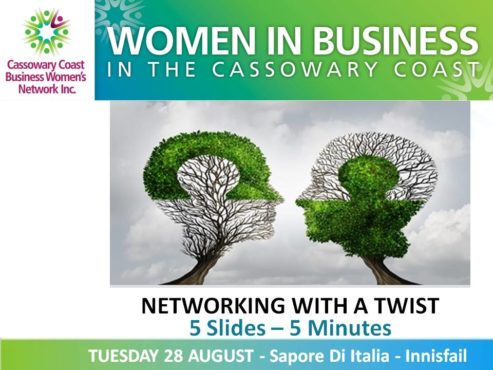 This  will be a great opportunity to learn more about the personalities and businesses that form our CCBWN.
"5 slides – 5 minutes" – a quick spotlight on 5 of our businesses. 
Each will have 5 minutes and 5 slides to encapture the nature and spirit of their business.
Also discussion in small groups about what your business does (be prepared – practice how you will explain your business in 3 short statements)
Bring along your marketing materials or business information to share.
Join us for a new twist on how to link and cross-promote, leveraging the skills and talents of business in our community and getting to know each other better. 

Why become a member of the CCBWN?
Discounted prices for CCBWN Events
New business opportunities through networking
Meet new people – develop and grow your contact base
Raise your profile and highlight your business
Share information, knowledge and experience with other like-minded business people
Development opportunities
An opportunity to be on the Executive Committee
Complimentary Website Listing of your business details
Opportunity to be a guest speaker at CCBWN events
Be supported and be inspired by other business women